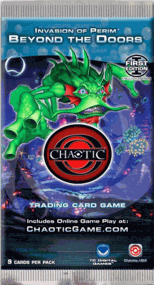 Name: M'arrillian Invasion Beyond the Doors Booster Pack Manufacturer: TC Digital Games Series: Chaotic CCG Details (Description): Chaotic is the ground-breaking new collectible trading card game that takes TCG's to the next level with the integration of free online gameplay, The Chaotic Online Game Experience. Enter the cards unique alphanumeric codes at www.ChaoticGame.com, to build armies, challenge friends, trade cards, and take part in web-based messaging and forums.New Creatures, Attacks, Battlegear, Mugic & Location. Everything to good to expect out of Silent Sands. Introduce your army to the new Assimilated Danians, Warbeasts, Conjurors & Chanters creatures that make their way out of the Silent Sands. Be prepaired as Progressive Attacks & Zero-Cost Mugic attacks will render you speechless. All the while, the Mipedian Tribe Silently takes their seat of power.
Ad blocker interference detected!
Wikia is a free-to-use site that makes money from advertising. We have a modified experience for viewers using ad blockers

Wikia is not accessible if you've made further modifications. Remove the custom ad blocker rule(s) and the page will load as expected.