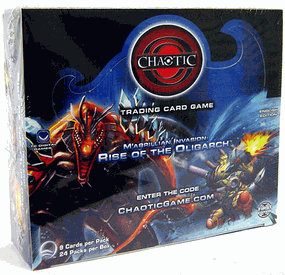 Name: M'arrillian Invasion: Rise of the Oligarch Booster Box [24 Packs] Manufacturer: TC Digital Games Series: Chaotic CCG Details (Description): Discovery the new abilities available to your army including: Fluidmorphers, Kharall warriors, and Flooded Locations. Explore the world of Chaotic as the M'arrillians continue their conquest of Perim. The ancient legends are true, the mythical M'arrillians are real! Experience the devastation as this merciless new Tribe overwhelms Perim, inundating and conquering scores of treasured Locations in their wake. The beleaguered Tribes quickly realize that to defeat their enemy, they must explore the mysteries that lurk in the uncharted regions behind the Doors of the Deepmines. Will they discover the secret to mastering the M'arrillians, or is surrender their only survival? 9 cards per pack / 24 packs per box.
Ad blocker interference detected!
Wikia is a free-to-use site that makes money from advertising. We have a modified experience for viewers using ad blockers

Wikia is not accessible if you've made further modifications. Remove the custom ad blocker rule(s) and the page will load as expected.