"Cromaxx is one of the fiercest creatures that ever existed. I've never faced a player that's beaten him" Codemaster Crellan
Cromaxx is a Past Tribeless Creature
Cromaxx


Card Information
Card Number
Alliance Unravelled-
Card Type
Creature —


 Tribeless Past Warrior

Rarity
Biograhpical Information
Gender
male
Preferred Location(s)
Prexxor Chasm
Televisual Information



Character Origins -Cromax is a Creature living in Prexxor Chasm.
Appearance
Cromaxx comes from the same family as Maxxor. There are a few similarities in their appearance, however, there is a major difference in their builds.
Maxxor is an average build creature, while Cromaxx is savage, barbaric and has a more gorrilla type build.
He was said to have attempted to kill Codemaster Crellan while he was scanning him. As a resident of Prexxor Chasm, he is surrounded by the likes of Smildon, Ursis, Proboscar, Ariak, and Gleptodd at all times, keeping him on his toes.
Affiliations, Loyalties and Allies
Enemies
Card Details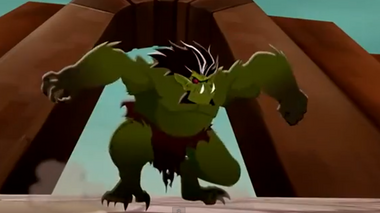 Courage :
90
(80—100)
Power :
60
(50—70)
Wisdom :
20
(10—30)
Speed :
50
(40—60)
Energy :
70
(65—75)
Mugic Counters :
0
Damage dealt to Cromaxx by Mugic is reduced to 0. Cromaxx's Energy cannot be reduced by Mugic.
'Cromaxx and Maxxor: different branches, same tree.'
Pictures
Trivia
Ad blocker interference detected!
Wikia is a free-to-use site that makes money from advertising. We have a modified experience for viewers using ad blockers

Wikia is not accessible if you've made further modifications. Remove the custom ad blocker rule(s) and the page will load as expected.