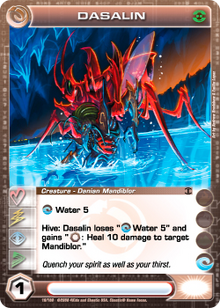 Dasalin

Dasalin

Card Information
Card Number
Zenith of the Hive-19/100
Card Type
Creature —


 Danian Mandiblor

Rarity
Artist
Andrew Bradshaw & Emilio Lopez
Biograhpical Information
Gender
Male
Loyalty
Danians
Televisual Information



Character Origins
Appearance
A red insect that stands on 4 legs. Holding a gun to a sea monsters neck probably an underworlder.
Background Information
Basic Stats
Courage :
25
Power :
30
Wisdom :
65
Speed :
20
Energy :
40
Mugic Counters :
1
Textbox

Water 5

Hive: Dasalin loses "

Water 5" and gains

: Heal 10 damage to target Mandiblor
Gallery
Notes
Ad blocker interference detected!
Wikia is a free-to-use site that makes money from advertising. We have a modified experience for viewers using ad blockers

Wikia is not accessible if you've made further modifications. Remove the custom ad blocker rule(s) and the page will load as expected.