Dyrtax


Card Information
Card Number
OrgPlay1-5
Card Type
Creature —


 UnderWorld

Rarity
Biograhpical Information
Loyalty
Underworld
Inhabits
Underworld
Televisual Information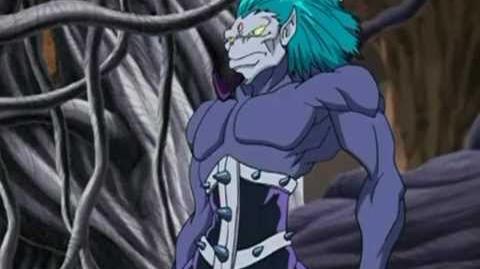 A UnderWorld Warrior.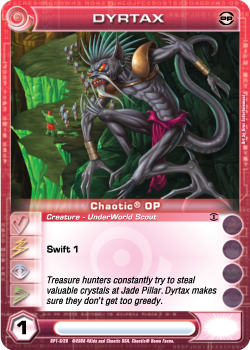 Character Origins
Appearances 
Dyrtax is a dark gray skinned humanoid with a gremlin face, teal spiky hair, spiky quilled knees, red lips, silver chinese whiskers and a long goatee. 
Connections
Card Details
Basic Stats
Courage :
Power :
Wisdom :
Speed :
Energy :
Mugic Counters :
1
Textbox
Swift 1
Treasure hunters constantly try to steal valuable crystals at Jade Pillar. Dyrtax makes sure they don't get too greedy.
TV Show
Breakdown
Appearances
==Trivia== 
Ad blocker interference detected!
Wikia is a free-to-use site that makes money from advertising. We have a modified experience for viewers using ad blockers

Wikia is not accessible if you've made further modifications. Remove the custom ad blocker rule(s) and the page will load as expected.