Evergreen Tunic

EverGreen Tunic

Card Information
Card Number
Unknown-Unkown
Card Type
BattleGear
Rarity
{{text-Template:U Uncommon}}
Televisual Information
BattleGear Origins
The Evergreen Tunic is an artifact from Castle Bodhran in the OverWorld and is worn by Frafdo, a powerful OverWorld Guardian. Here, the tunic has been scanned on its own for the first time and is available for use by Chaotic players as a powerful Battlegear that boosts courageous fighters with significant added Energy.
Card Information
Textbox
Stat Check Courage 50: Equipped Creature gains 5 Energy.

Stat Check Courage 75: Equipped Creature gains 15 Energy.
The perfect combination of weight, Durability, and Flexibility
Strategies
Place it on the front row to keep them alive longer in tough situations. Also because It is a stat check it is much easier to use.
The Card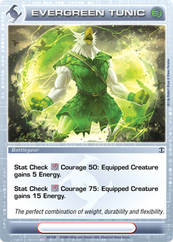 In the Show
Card Owners
Notes
Notes
Appearances
Notes
Notes
Notes
The Creature on the front of the card is Frafdo
Related Articles
External Links
Ad blocker interference detected!
Wikia is a free-to-use site that makes money from advertising. We have a modified experience for viewers using ad blockers

Wikia is not accessible if you've made further modifications. Remove the custom ad blocker rule(s) and the page will load as expected.