Jiggorex is an UnderWorld Creature that somewhat resembles a short satyr.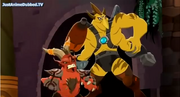 Appearance
Jiggorex basically looks like a humanoid gargoyle with horns and hair. He has red skin, a bit of purple hair, and is relatively short, but very muscular.
Description
Character History
He seems to be Khybon's partner or assistant, but not much else is known about him.
The Card
In the Show
Breakdown
Appearances
Notes
Notes
Card Owners
Notes
Notes
Character History
Trivia
Notes and References
See Also
External Links
Ad blocker interference detected!
Wikia is a free-to-use site that makes money from advertising. We have a modified experience for viewers using ad blockers

Wikia is not accessible if you've made further modifications. Remove the custom ad blocker rule(s) and the page will load as expected.