This is The Chaotic database that anyone can edit!
This wiki has 1,071 articles and 2,761 images, since it was created on 25 January 2007.
Today is November 25, 2015.

Card Images ©2006 - 11 TC Digital Card Images ©2012 - 15 Kodostudios
Featured Scan
Featured Scan: Chaor
Chaor is the fearsome Conqueror Warrior and brutal leader of the UnderWorld. Woe to those who oppose him!.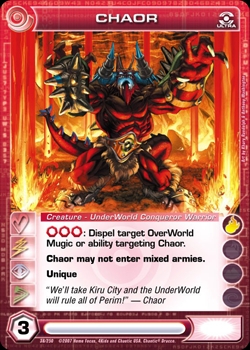 Chaor reigns supreme from his command headquarters in UnderWorld City, where he holds the entire UnderWorld in an iron grip. Feared by friend and foe alike, he rules with a fiery combination of Wisdom, cunning and intimidation. Chaor's dream is to conquer Kiru City, overthrow Maxxor, and dominate all the Tribes of Perim.
---
You can help Chaotiki, by editing!

Polling booth
Favorite Underworld Advisor?
Which UnderWorld leader's aides do you like the most?
Chaoticgame.com ever coming back?
What's your opinion now that it's been a few years?
You can find our other Polls here...

Member of Wikia: Toys and Games

Wikia: Toys and Games (TaG) is a family of open-content encyclopedias based on toy/game franchises, vowing to help each-other, wherever help is needed, and create a family of unified wikis.
Quote
"Exiled from the Underworld, Chaor has lost his homeland and his throne. But his anger still rages, and it drives him forward."
―Flavor text, Chaor the Fierce