This is the Chaotic database that anyone can edit!
This wiki has 1,043 articles and 2,996 images, since it was created on 25 January 2007.
Today is March 21, 2018.

All material is © by its respective owners.
Featured Scan
Featured Scan: Prince Mudeenu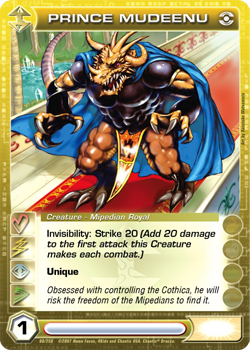 The Royal Family of the Mipedian Tribe descends from an ancient bloodline, seemingly as old as the desert itself. Mudeenu is the cousin to the Mipedian Crown Prince and holds a high place in the Mipedian aristocracy. Prince Mudeenu commands the Royal Guards, who are responsible for the safety of the Crown Prince. He is respected among his royal peers and feared by those he commands. He is publicly unfailing in his total dedication to the royal family, though he does not always personally live up to his own lofty standards of devotion. It seems that Prince Mudeenu will give up anything in order to find the Cothica and rule Perim.
Polling booth
A Classic Choice
Which Creature Do You Like Best?
Assimilated Remakes: Merge or Leave Divided
Link[1]
You can find our other Polls here...

Member of Fandom: Toys and Games

Wikia: Toys and Games (TaG) is a family of open-content encyclopedias based on toy/game franchises, vowing to help each-other, wherever help is needed, and create a family of unified wikis.
Quote
"You can either surrender or die... and I won't accept your surrender."
―Prince Mudeenu, Champion of the Guard Card