Home
Talk

22
1,013pages on
this wiki
This is The Chaotic database that anyone can edit!
This wiki has 1,013 articles and 2,164 images, since it was created on 25 January 2007.
Today is April 24, 2014.

Card Images ©2006 - 11 TC Digital Card Images ©2012 - 14 Kodostudios
Featured Scan
Featured Scan: Lord Van Bloot
Lord Van Bloot is an UnderWorld Conquerer who dreams of overthrowing Chaor.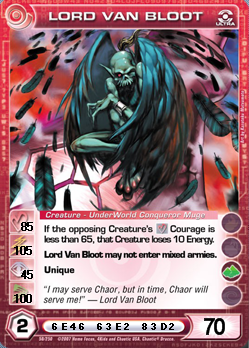 Chaor's second-in-command, an UnderWorlder with plans to overthrow Chaor. He makes his home in the castle called Gothos Tower. Van Bloot eventually ends up shoveling coal for the M'arrillians after he fled from the UnderWorld. Later, he's informed about the secrets of Dranikus Threshold by Klay. With the knowledge of the threshold in hand, he planned to use Dranikus Threshold to go back in time and conquer all of Perim. Najarin and creatures from the other tribes eventually manage to prevent that from happening.
---
You can help Chaotiki, by editing!

Polling booth
Favorite "Big Four" Creature Upgrade?
Witch creature got the best remake?
Chaoticgame.com ever coming back?
What do you think the odds are?
You can find our other Polls here...

Member of Wikia: Toys and Games

Wikia: Toys and Games (TaG) is a family of open-content encyclopedias based on toy/game franchises, vowing to help each-other, wherever help is needed, and create a family of unified wikis.
Quote
"I may serve Chaor, but in time Chaor will serve me!"
―Lord Van Bloot, LVB's flavor text