Orth is an OverWorld Creature.
Appearance
Orth looks like a red hunk of rock like material. He is fat.
Description
Orth is a shy Overworlder who is the creator of the Stone Mail.Orth is also a master of the earth element he is also a great elementalist.He is a friend of akkreban nijiran's persent asseintent.
Character History
The Card
In the Show
Breakdown
Appearances
Notes
Notes
Card Owners
Trivia
At one point Orth and Gespedan raced. With victory, Orth was given the right to name Gespedan's next child.

A mirror to the story "The Tortoise and the Hare."
Notes and References
Gallery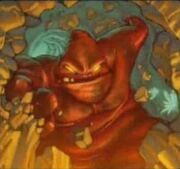 See Also
External Links