The PortCourt is a place where Chaotic players can watch matches, grab a bite to eat, or Port into Perim and grab scans. Chaotic players can also trade scans with other players including:
Mugic Scans
Location Scans
Creature Scans
Battle Gear Scans
Chaotic players can order food from an obliging service robot.
Food items
Breakfast Items: (According to the episode "When a CodeMaster Calls")
Apples (Sarah is seen snacking on an apple until Kaz joins her in a groggy state. Peyton is battling Ulmanator uring a Vinta V.S. Ulmar match in the early morning.)
2% Milk (Kaz orders this with his Crackling Chaor Crunchies)
Crackling Chaor Crunchies
Junda Juice
Other Food Items:
Maxxoroni and Cheese (Sarah orders this entree during a match. It is green in appearance, but supposedly has the same ingredients as regular macaroni and cheese.)
Cheeseburger
Onion Rings of Na'arin
Ice Cream Sundaes
Chirrul Chips
Shimmark Shake
Lomma Late
Pizza
Popcorn (Clay offers some to Tom and is friends before the match between twin sisters Jycella and Krystella.)
Magmon Mocha
Banana Split (Tom and Sarah split it in Scavenger Scan)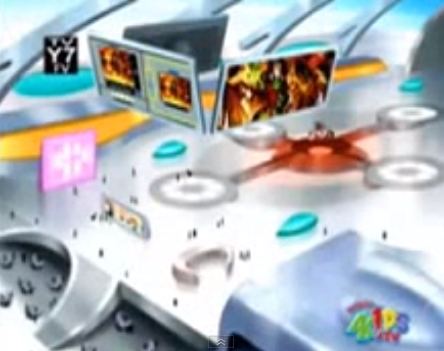 Ad blocker interference detected!
Wikia is a free-to-use site that makes money from advertising. We have a modified experience for viewers using ad blockers

Wikia is not accessible if you've made further modifications. Remove the custom ad blocker rule(s) and the page will load as expected.