Proboscar


Card Information
Card Number
Alliance Unravelled-
Card Type
Creature —


 Tribeless Past Beast

Rarity
Biograhpical Information
Gender
male
Preferred Location(s)
Prexxor Chasm
Televisual Information
First appearance
The CodeMaster Chronicles Part 2
Last appearance
Chasm Quest



Proboscar is a Past Tribeless Creature.
Description
Proboscar resembles a four-tusked woolly mammoth with a mouth at the end of it's trunk which it uses to crush and kill opponants and creatures. He has a troll like face and 
Card Details
Basic Stats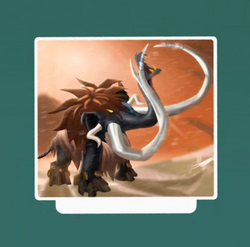 Courage :
50
Power :
65
Wisdom :
25
Speed :
85
Energy :
65
Mugic Counters :
0
Textbox
Proboscar may move into any unoccupied space as if it were adjacent. If Proboscar would move into an opposing Creature's space it relocates that opposing Creature into Proboscar's space instead.
TV Show
Breakdown
Card Owners
Notes
Gallery
The CodeMaster Chronicles Part 1
Chasm Quest
Ad blocker interference detected!
Wikia is a free-to-use site that makes money from advertising. We have a modified experience for viewers using ad blockers

Wikia is not accessible if you've made further modifications. Remove the custom ad blocker rule(s) and the page will load as expected.