Proboscar is a Past Tribeless Creature.
Description
Proboscar resembles a four-tusked woolly mammoth with a mouth at the end of it's trunk which it uses to crush and kill opponants and creatures. He has a troll like face and 
Card Details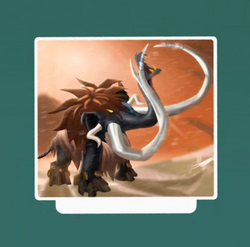 TV Show
Breakdown
Card Owners
Notes
Gallery
The CodeMaster Chronicles Part 1
Chasm Quest
Ad blocker interference detected!
Wikia is a free-to-use site that makes money from advertising. We have a modified experience for viewers using ad blockers

Wikia is not accessible if you've made further modifications. Remove the custom ad blocker rule(s) and the page will load as expected.