Riggan
Card Information
Card Type
Creature —


 Danian Mandiblor Muge

Biograhpical Information
Gender
Male
Loyalty
Danian Tribe
Televisual Information



"quote text"
―attribution, episode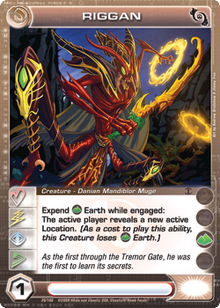 Character Origins
Appearance
Background Information
Riggan is the first Danian to go through the tremor gate.
Personality and Behaviour
Connections
Affiliations, Loyalties and Allies
Enemies
Card Details
Basic Stats
Courage :
70
Power :
30
Wisdom :
55
Speed :
30
Energy :
45
Mugic Counters :
1
Textbox
Expend Earth while engaged: The active player reveals a new active Location. (As a cost to play this ability, this Creature loses Earth.)
As the first through the Tremor Gate, he was the first to learn its secrets.
Strategies
Release and Promotion
TV Show
Appearances
Cards and Scans
Quotes
"quote text"
―attribution, episode
Gallery
Notes
Related Articles
External Links
Ad blocker interference detected!
Wikia is a free-to-use site that makes money from advertising. We have a modified experience for viewers using ad blockers

Wikia is not accessible if you've made further modifications. Remove the custom ad blocker rule(s) and the page will load as expected.