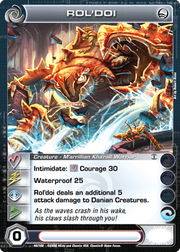 "as the waves crash in his wake, his claws slash through you!" - card text
Rol'doi is a M'arrillian Creature who resembles a mutant crab/lobster. He is a Kha'rall warrior.
Basic Stats
Courage :
80
Power :
45
Wisdom :
45
Speed :
40
Energy :
50
Mugic Counters :
0
Ad blocker interference detected!
Wikia is a free-to-use site that makes money from advertising. We have a modified experience for viewers using ad blockers

Wikia is not accessible if you've made further modifications. Remove the custom ad blocker rule(s) and the page will load as expected.