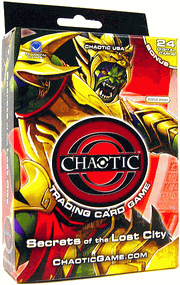 Name: Secrets of the Lost City Pre-Constructed Starter Set Manufacturer: TC Digital Games Series: Chaotic CCG For ages: 4 and up Details (Description): 38 CARD STARTER DECK SET: 24 Card Pre-Constructed Deck 4 Rare Insert Foil Cards 1 Secrets of the Lost City: Alliances Unraveled Booster Pack 1 Master Upload and Tip Card (unnumbered) Rule Book Playmat
Ad blocker interference detected!
Wikia is a free-to-use site that makes money from advertising. We have a modified experience for viewers using ad blockers

Wikia is not accessible if you've made further modifications. Remove the custom ad blocker rule(s) and the page will load as expected.