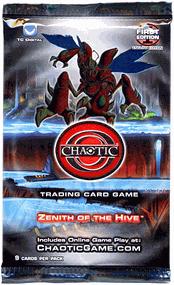 Name: Zenith of the Hive Boosters Manufacturer: TC Digital Games Series: Chaotic CCG Details (Description): Chaotic TCG is the revolutionary trading card game that takes TCGs to the next level with the inclusion of integrated multi-level online game play. The Chaotic Online Game Experience is FREE with the purchase of each Starter Deck and enhanced with the purchase of Booster Packs. The Power is in the Code. Following the highly successful launch of Dawn of Perim, Zenith of the Hive, hits the scene in March, adding 100 new cards and new powers such as Infection and Disarm. The ground-breaking TCG combines unique card features and variable stats with stunning artwork and an intriguing storyline. Creatures have variable power scans that ensure virtually no two creature cards - and no two games - are ever the same!
Ad blocker interference detected!
Wikia is a free-to-use site that makes money from advertising. We have a modified experience for viewers using ad blockers

Wikia is not accessible if you've made further modifications. Remove the custom ad blocker rule(s) and the page will load as expected.